There are lots of 'firsts' when you're a baby Barn Owl & hearing thunder is one of them.
This video is from the amazing wildlife channel of Robert E Fuller & he owns copyright.
Our gut reaction is instinctively to reach out or make the owl feel safe and take the fear away. In the face of such an unexpected, unpredictable & totally new experience the baby Barn Owl's senses are nearly overloaded & that's tough to watch because it's so young.
But we, as experienced adults watching, can take a step back and we're able to say "It's only thunder!  It'll be OK!  It'll pass!"  For the owl, probably the only thing that'll make the thunder less & less disturbing is when it comes again & again until over time it learns that, while the thunder itself does no harm, it's a usually good idea not to fly out any time soon or risk getting wet.
Not wanting to pile-drive this analogy into the ground, with schools starting back next week, it isn't so difficult to see the children & families in a similar position.  We'll leave school colleagues out of this for now – they've heard the thunder all year!
If you were allowed to reach in to let the owl know, somehow, that the thunder wouldn't last forever you would probably get pretty scratched up before things settled down.  With the new school coronavirus measures & return of routine, albeit new, as the thunder rumbles on, it's probably not a bad idea to bear in mind the baby Barn Owl.
The best of luck, take care and keep well if you're back in next week from us here at Blippit.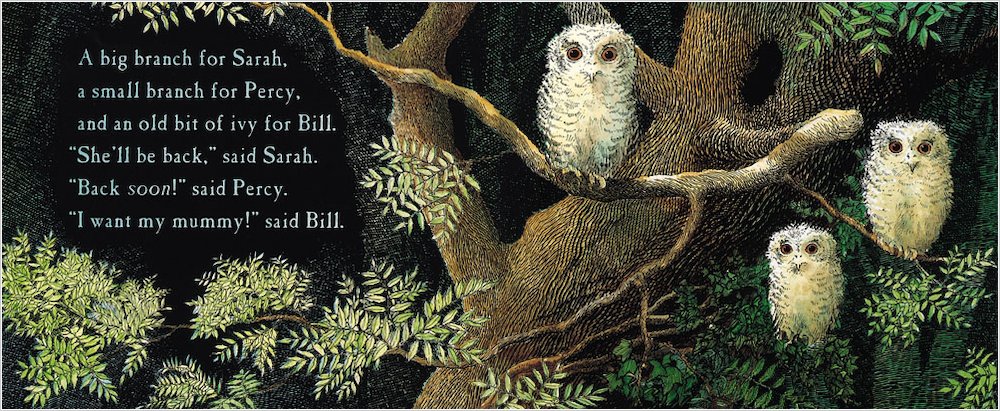 Owl Babies by Martin Waddell (author) and Patrick Benson (illustrator) who own copyright to this very well known story.