One log-in is enough for most people – it's certainly enough in schools when your brain is spinning and creaking with a million other things.  On the market just now are a growing number of technical solutions that are designed help you and the children sign in only once (or thereabouts) and get access to all your stuff from anywhere.

You'll have seen how with some sites you can log in using your details from Twitter, Google, Facebook.  It's pretty clever and it makes life simpler in the non-school world.  Unfortunately it's less straightforward, or rather there's more to consider, to enable this sort of authentication in schools.  Google has an impressive solution to this mentioned later in this post.   On a practical note,  having a log in option for younger users via social media is contra to the policies of pretty much all providers.
With the dream is always to make life simpler for users (while simultaneously keeping things fully usable, secure & customisable) here's a whistle-stop tour of some available and proven systems that are here to lower technical friction and free up your brain space for learning.  They're in no particular order other than alphabetical.
---
AirHead caught our eye at BETT 2016 as a very nicely done and deeply integrated web based desktop.  Your apps follow you whatever device you're on and there's some clever stuff under the hood that allows children and teachers to greatly reduce the number of times they have to log in to different systems.  If you want to bring in behaviour, attendance and all that gritty stuff you can do that too with all the big MIS systems listed here.
Google has taken simplification to heart and wrapped some of the most powerful web based productivity tools around it you're likely to see.   Want children to work/write/draw/survey or whatever together online in real time?  This will tick those needs off very nicely and wherever you or your children are working it won't matter.  Well worth exploring if you've not already done so as us the Chromebook – a technology of which we're huge fans hence the Chrome Extension we built of Blippit IO.
If you like the tech, then one of the smartest fish under the waterline is GroupCall's IDaaS (Identity Management for Education).  It's a bit like the magic golden thread that ultimately lets you zip seamlessly and share data securely between systems.  Purely for education it has to be a good thing.  It does more but check them out for more info on their website.
Microsoft Azure may be starting to appear on your peripheral vision if you're not directly involved in tech at school.  Your network support experts will be well aware of it.  One among the many things Azure does is to integrate lots of tools and services that are commonly used across your organisation such as email, where you keep your files and securely manage single login to multiple systems. Microsoft is operating a more open shop these days and MS non-fans may want to check out what is now being catered for under Azure.  Chat to Virtue Technologies in Skelmersdale – they know Azure well.

RM Unify is a single sign-on method that curriculum tools such as Blippit allow teachers and children to gain access with.  School users log in to RM Unify just once.  If user details are updated at school level this is synchronised automatically across all other systems including Blippit if necessary.  No more "I've forgotten my password!" & plenty of customisation at a local level so schools can point to bought and free stuff at will.  It's also a shop window so if you're using RM's MIS you can try, buy and deploy from the browser very easily.
---
Going back in time…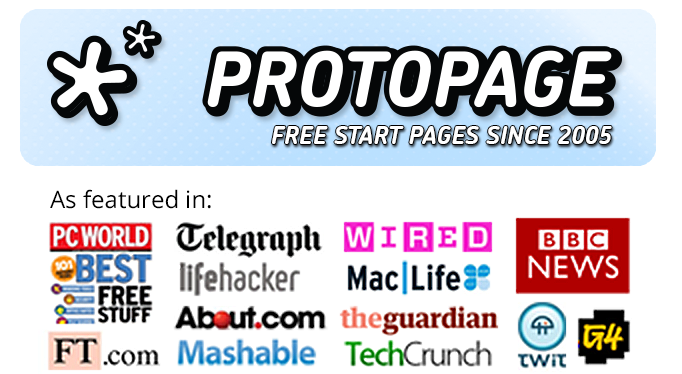 In 2005, yes that's 11 years ago, I came across and played with a web based information dashboard/desktop product called ProtoPage.  It's not so much for schools but the whole web based customisable desktop 'thing' is right there and has been for the last 11 years. Worth a play if only to fix in your mind, should it need fixing, what a powerful thing having web based desktop can be.